The Only Video Marketing Software that is able to Reverse Engineer YouTube rankings system!
Dominate YouTube Rankings
Get Traffic From Related Videos
Generate SEO optimized Video Details
Step 1
Find Untapped Keywords
VMB will suggest you long tail keywords and related keywords to your main niche that you can easy exploit.
Step 2
Use bet performers
Take the best performing keywords and move to step 3
Step 3
Title/Description/Tags
VMB will generate with the click of one button your titles/desc/tags stuffed with phrases that contain the best keywords for your niche.
Follow this easy steps and you will
get TOP RANKINGS

in any niche!
VMB is taking analyze over 70 ranking signals and will show you exactly what you need to do in order to get top rankings!
Let me show you how powerful VMB is…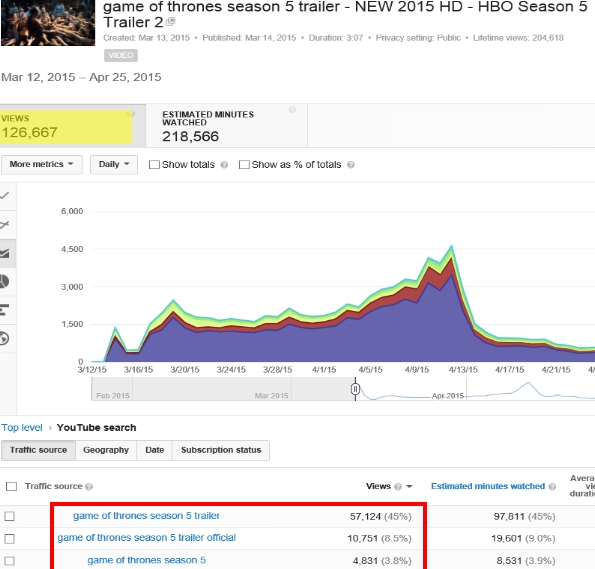 I'm sure all of heared about game of thrones, one of the most popular TV shows in the history.
We knew that there are ton of searches for this keyword, so we decided to test our new ranking algorithm…
We outranked videos with millions of views, we are getting THOUSANDS OF VIEWS EACH DAY…
We ranked #3 on the hardest keyword "game of thrones season 5 trailer"!
Everything without any hard work, with the push of two buttons (research and generate button).
We knew that our algorithm is very good but didn't expect to outrank official channels.
You can get this kind of results too!
You don't need any experience!
You just need to click two buttons!
I will show you right now how to exploit the YouTube ranking algorithm!
Results that we got from the beta testers:
The schema from the right shows you
the most important ranking factor
that YouTube is taking in calculation when they rank a video.
The larger the circle is, the more important that factor is. Try to take all those factors in calculation and you will see that your video will get better rankings.
We spent months uploading and testing different strategies to be able to find the exact balance between those factors. After we found there is not a fixed balance…
You can exploit the schema by hand but it will take hours for one videos because for each niche the balance is a bit different, so you have to apply the schema for the top ranking videos in your niche and find the exact balance and after that you can exploit it!
If you think that is to much work for you, than I have good news…
VMB PRO will give you the
exact numbers and ratios

with the click of one button!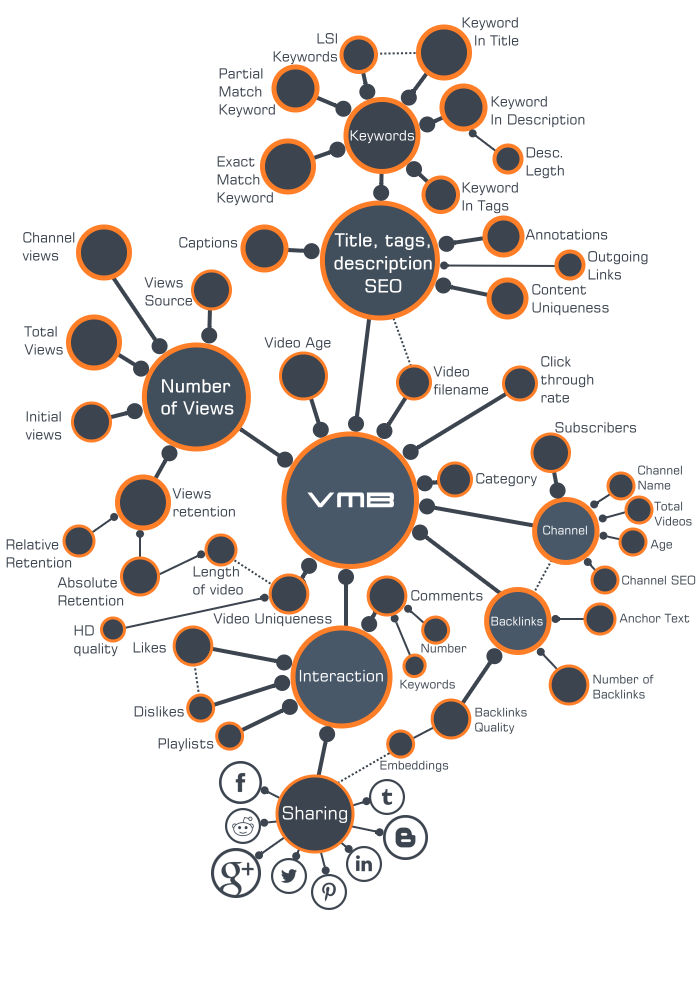 What makes VMB so special…
We are developing YouTube Software for more than 5 years, in all this time we noticed all the changes and updates to the YouTube ranking algorithm.
We've spent countless hours and uploaded thousands of videos to back engineer their ranking system.
We noticed that they changed their system from an "exact match system" to a "lexical semantic system".   What this means…
YouTube know that "learn guitar" and "guitar lessons" are one and the same thing.
We spent countless hours creating our own lexical semantic matching engine.
When we finished our engine and tested our system we were blown away!
Our rankings got huge boosts, we were able to get top rankings in almost any niche that you can think of… we are using all the signals and keywords that YouTube searches for when their calculating the rank of a video.
Why People Say That VMB Is The All-In-One Video Marketing Software…
VMB contains 2 modules that will make sure that all your video marketing needs are being automated!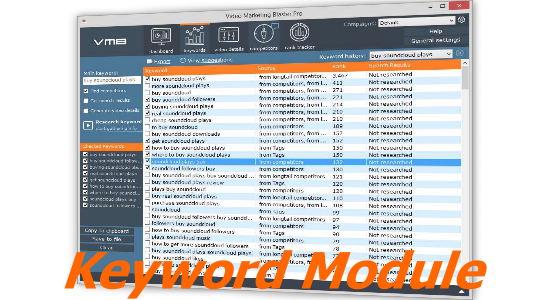 Module 1
Keyword Module
VMB PRO uses it's own Lexical Semantic engine in order to find long tail keywords and related keywords. Compared to the other tools on the market VMB will give you 500% more keyword suggestions.
• Research from for different sources!
• Generate the largest, most diversified keyword list imaginable.
• Uncover keyword phrases I guarantee you had absolutely no idea people actually searched on!
• The single fastest way to find untapped niches not even the YouTube gurus know about!
Module 2
Generate Video Details
With the click on one button VMB PRO will generate you titles, description and tags that will out rank all the competiton. Your descriptions will not be stuffed with keywords,they will contain pharses that contain the targeted keywords.
• Generate perfect SEO optimized titles/descriptions/tags with the click of one button!
• Bulk Title/Description/tags generation from your buit-in templates.
• Rule the YouTube ranking!
• Export your titles/descriptions/tags to Mass Video Blaster
VMB is delivering Results in any niche!
Check out some of the results achived with VMB:
No Niche is too hard from VMB!
VMB is so powerfull that with the title/desc/tags generated by one click, we ranked in top position for Game Of Thrones Season 5 ! We are getting 3-4.000 views each day!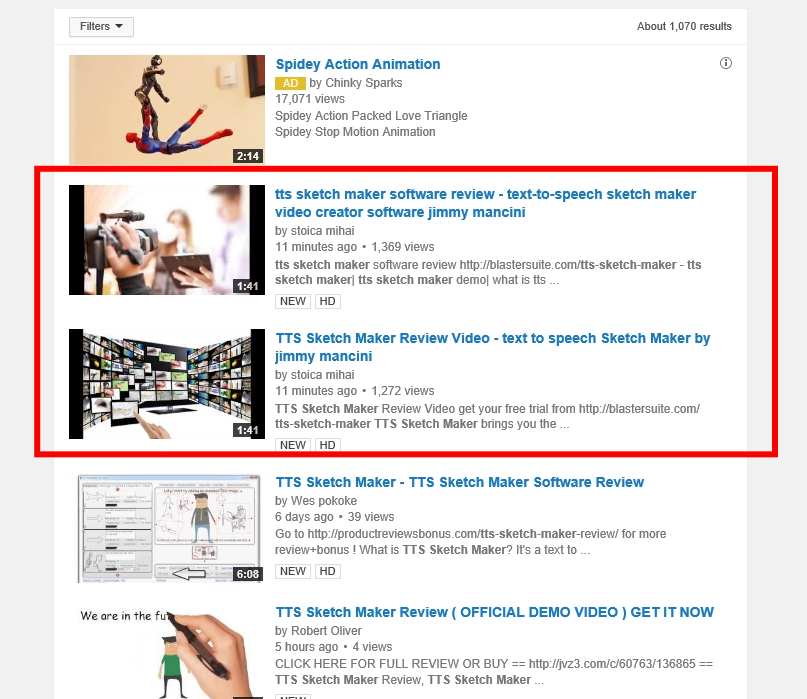 Use VMB for Affiliate Products
We used VMB for TTS Sketch Maker Launch and during the launch we had the first two spots with our videos.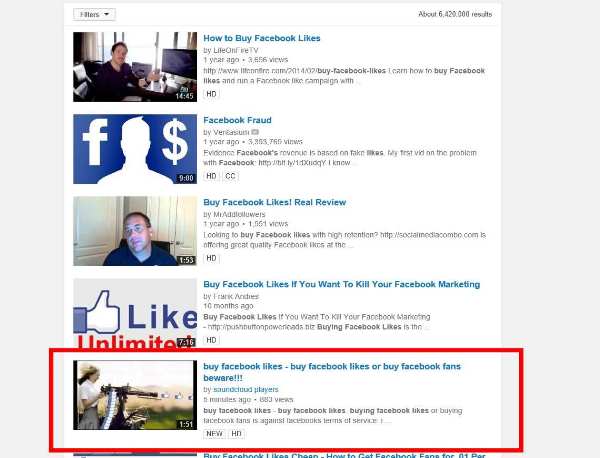 Another great results with VMB
Video Marketing Blaster PRO is not only delivering results… delivers INSTANT results!
Movie niche... VMB will give you TOP rankings!
Position 4… all from the title, description and tags generated with one click with Video Marketing Blaster!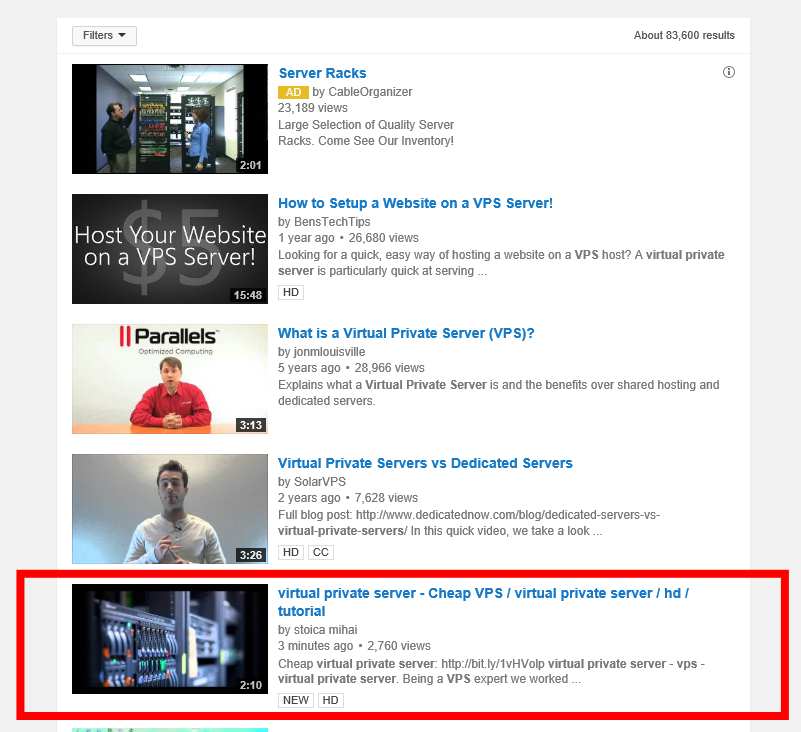 Top rankings for Virtual Private Server
Imagine what you could do with a strong channel, we used dummy channels for all this tests… You would get on SPOT #1!
Foreign langauage... No problem for VMB!
We got #1 Rank for one of the hardest fitness keyword in Romania with one click from VMB! Check out the traffic!
Keyword Suggestions
Get long tail keyword suggestions by analyzing related videos, first page videos, google results and more…
Generate Video Details
Auto generate SEO optimized Titles/Descriptions/Tags with our unique lexical semantic engine!
One Click All-In-One
One Click to Generate Video Details, Analyze competition and get Keyword Suggestions. VMB is so easy to use that even a 7 year old could make money from YouTube.
No Other System Is Producing Anywhere Near As Many REAL RESULTS As VMB!
But better hurry. Because while I'm not limiting this to any specific number (just in case we go over)…
I will have to take this page down at some point, and judging by the number of people visiting this page every few seconds right now… It won't be long at all.
Click Play to see how easy it is to use VMB!
While it's still available, You Can Get The Entire Video Marketing Blaster System For…
All  the beta testers and clients told us that we are crazy that we are not asking at least 497$ for such a complex software…  Under other circumstances we would ask well over 500$ for such a tool but for now we want to keep the price as low as possible so everybody can see the quality of the Blaster products.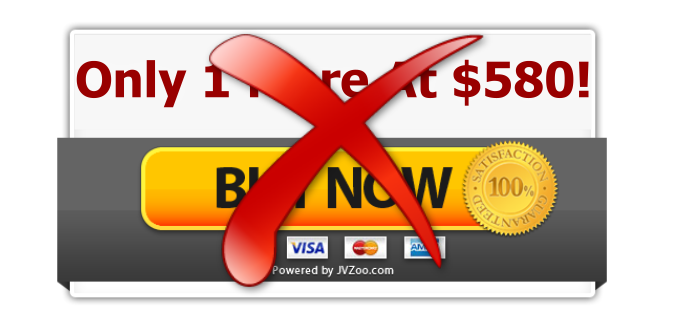 But better hurry. Because while I'm not limiting this to any specific number (just in case we go over)…
I will have to take this page down at some point, and judging by the number of people visiting this page every few seconds right now… It won't be long at all.
Check out what experienced internet marketers say about VMB …
VMB is hands down one of
the best video marketing tools
I have come across in a very long time.
It does so much that it may seem intimidating initially, but once you go through the PDF tutorial and play around with it you'll master it in no time.
A definite Must Have for video marketers looking for a serious edge over their competition. Cliff Carrigan
If you want to be reach your goals, achieve your targets and get the best out of your time, you should use tools that will help you get the best from it, market research and keyword research are the base of a good marketing campaign, now thanks to this new tool you can get things done in minutes, start saving time and money, get the keywords that convert and rank your videos like a master!' Jimmy Mancini
I have been a YouTube content creator for over 6 years now.  Video Marketing Blaster Pro is one of the tools
I wish I had when I first started.
I love being able to keep track of where my videos are ranking for certain keywords and seeing what I need to do in order to outrank my competition. If you are a content creator and want to stay ahead of your competitors you need Video Marketing Blaster Pro in your tool belt! Brad Scott
Being one of the industry's leading Social Media Providers, I have had the pleasure and displeasure of seeing and working with all YouTube Marketing Software in the industry.
The features have been mind-blowing and the power behind this amazing software speaks for itself. Many client videos have reaped the benefits of this amazing software (but shh, it's been my little secret). Amazing stuff guys… Ruoall Chapman
100% safe for YouTube Partners & Foreign language is not a problem!
Andrei tested VMB PRO in the romanian market of "weight loss" and now he is one of the biggest "players" in the romanian market.
Not only VMB PRO works perfectly with foreign languages but it is 100% safe for YouTube Partners!
So What Are You Waiting For…
Are You Ready To Rule YouTube Rankings…
If you refresh this page probably you will see a higher price.(refresh or leave this page on your own risk) Therefor it's in your own best interest to get it now because that's the only way you can guarantee you will get it at this ridiculously low price!
All our friends and clients told us that we are crazy that we are not asking at least 497$ for such a complex software… We want to keep the price as low as possible so everybody can see the quality of the Blaster products.
A software developed by marketers for marketers!
More than that, we are professional programmers!
We are handling all the coding and updates for all our tools!
How many IM tools you've encountered that got more than 130 updates (on a single software) in 3 years? We are making sure that all our clients are satisfied with our products and all the feature requests are implemented in our tools! This way we were able to create a brand! (I know it sounds cheesy but that's the reality)
What good is creating 100 videos if you don't Rank them?
If you are doing

affiliate marketing

If you are promoting

CPA

offers…

If you are doing

Amazon

Promotions…

If you are promoting

your own product

…
If You Are Doing
Any Kind Of Affiliate Marketing
Video Marketing Blaster PRO is FOR YOU!
I'm ready to get to the next Video Marketing level.
I understand that: